Weedlover cutters
The cutters are sold in packs of 50 and are available in 4,0 mm diameter. You can choose between square- and round-profile cutters.
Protectline.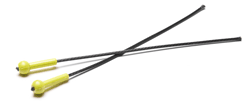 As the name suggests, this cutting wire has a protective function. The cutting wire Protect Line is specially developed for mowing around trees (tree levels), shrubs, tombstones and other vulnerable areas without any damage being caused.
This cutting wires are available in 2.4 mm and packed per 20 pieces.
Duraline.

Duraline trimmer cutters are made of steel wire with a plastic coating, which makes them very wear resistant. These cutters are available in 4,0 mm dimeter and are sold in packs of 16. Perfectly suited for thick / coarse vegetation.
Attaching a cutter is simple: just feed the small end through the hole in the trimmer head. The Weedlover trimmer head can be fitted with 2 or 4 opposing cutters as required. The best result is achieved with 4 cutters.